Fancy Furniture Add-On - Now with TVs, Milkshake Makers, Washing Machines
Addons for Minecraft PE
Pop quiz! What is (a) Fancy and (b) Furniture? If you guessed Fancy Furniture you're exactly right! Genius-level in fact. And you may download this Add-On. Actually, everyone can download it. No judgement here!
Firstly, and most importantly, we have a new salesman, Sven, who travels around birch forests with his moose selling all the latest Fancy Furniture you could ever want (at least until v2 comes out). Everyone give a warm greeting to Sven [background golf claps ensue].
Check out the new TVs, milkshake makers and more!
The original furniture items:
This furniture includes (and is limited to):
BBQ! Yep, time for a good old backyard barbecue out on the deck. You do have a deck, right..?
TV. Two "channels"!
Laptop, you can't play Minecraft on it, just yet.
Coffee Machine. My favorite addon to Minecraft, ever, ever, ever. Coffee is here.
Milkshake Maker. Three flavors of shakes!
Old-style Jukebox - built a tavern and need a real jukebox..? This is for you. Some great country tracks by The Caffeine Creek Band and JuliusH.
Outdoor speakers, loaded with awesome tunes from Patrick de Arteaga; see patrickdearteaga.com
Bar stools
Reclining lounge chairs (let's be lazy)
Bookshelves
Pedestal fans (to keep your desert houses nice and cool)
Office chairs (you want a red one, trust me)
Lamps
Coffee tables
Sets of Drawers
Washing machines
Tents
Sun lounges
Outdoor chair
 
Still more to come.....
Special Features
BBQ
Light it with a flint and steel (obviously). Put it out with a flint and steel (what?). Or wait for it to turn off itself.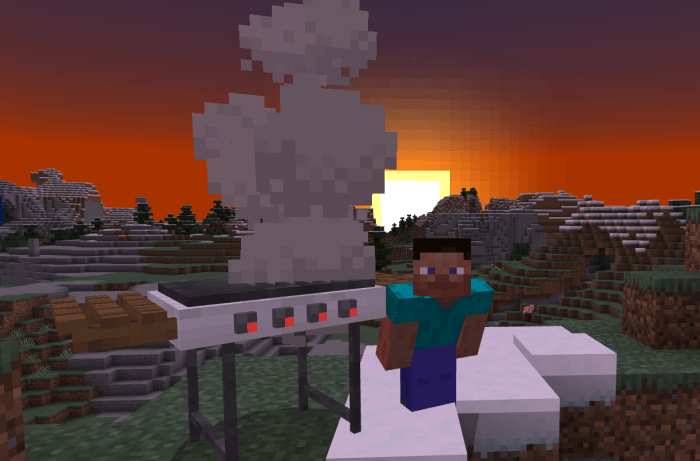 TV
Turn it on with a flint-and-steel (what?). Change the channel by interacting (two channels!). Turn it off with a flint-and-steel.
Outdoor Speaker
As with the jukebox, to move them, chop them up and they drop a spawn egg.
To make the speakers play music, just interact with it. To stop them, same deal, just interact with it.
Fan
To turn it on and off, just interact with it.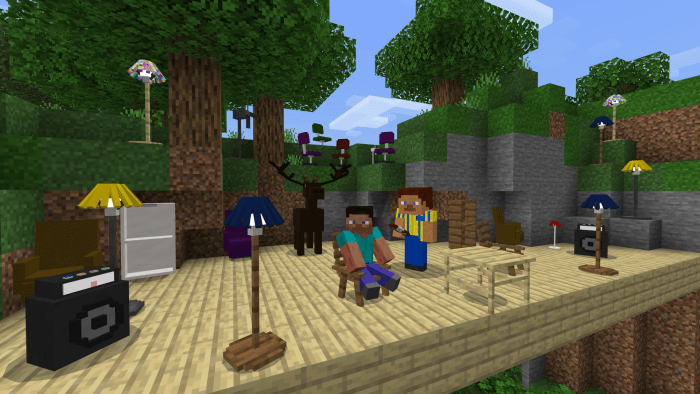 Jukebox
To make it play, you need a Good Coin! To make a Good Coin, follow the recipe below.
Once you have a Good Coin, hold it and interact with the jukebox. After a second or two the music will start. If you want to stop the music, interact while holding redstone.
If you want to move them, just chop 'em up and they will drop a spawn egg.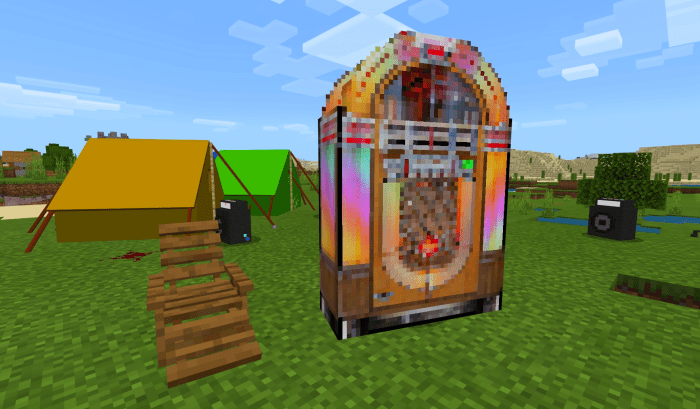 Milkshake Maker
Once you've made a plain milkshake (see crafting recipes below), interact with the Maker, and you can make one of three varieties:
They all have different effects. You'll always get at least health boost with a berry shake, jump boost and fire resistance with a honey shake, and speed with a chocolate shake.
Coffee Machine
Grab a pod (recipe below) a cup (recipe below) and a coffee machine (you'll need to find a Sven that has them in stock). You may get a variety of effects, speed at least - just like real life!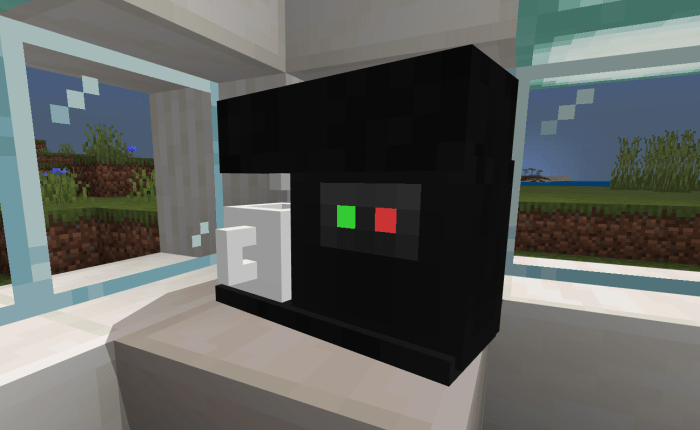 How to brew a coffee: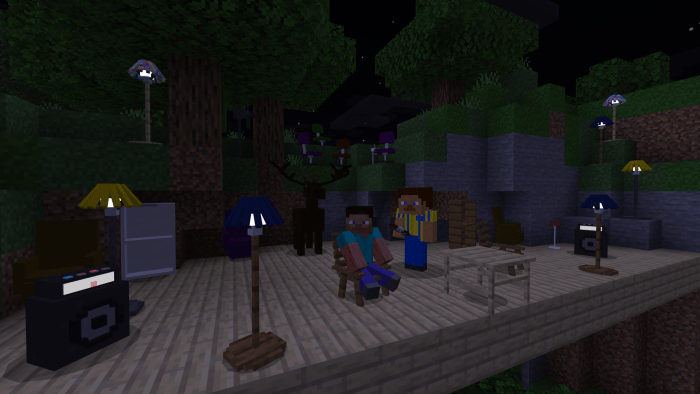 Craftable items
Milkshake Glass:
Plain Milkshake (first step for flavored shakes), makes eight:
Stool: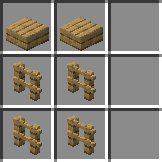 Coffee Table: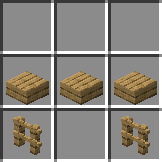 Coffee Pod (4):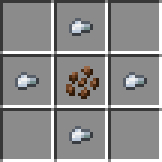 Coffee Cup: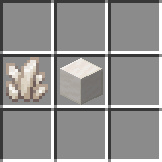 Good Coin (32):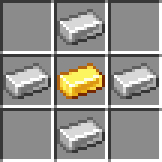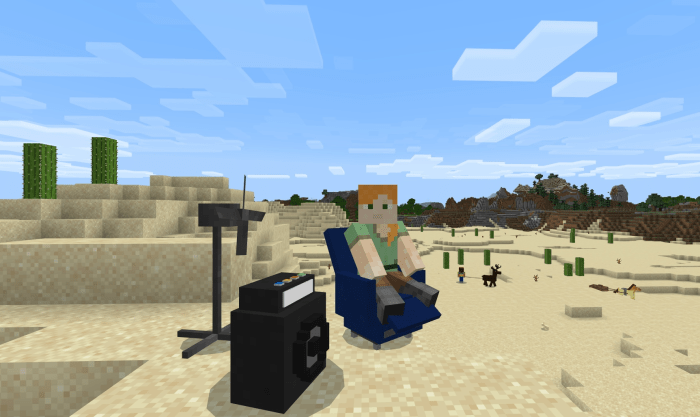 Supported Minecraft versions
1.17 (beta)
1.17.30
1.17.11
1.17.0.50 (beta)
1.17
1.16.100
1.16.230 (beta)
1.16.221
1.16.220 (beta)
1.16.210 (beta)
1.16.201
1.16.200
1.16.101
1.16
Downloads
Information
Users of Guest are not allowed to comment this publication.