Weapon Pedestal Remastered (Update!)
Addons for Minecraft PE
This addon was built to help people show their best weapons and tools to the friends. These Pedestals should be used as decorative blocks only! Works for survival but not with enchanted gear and durability.
Here is how to use this addon!
NOTE: Enable EXPERIMENTAL GAMEPLAY in your world options in order to use this addon!!!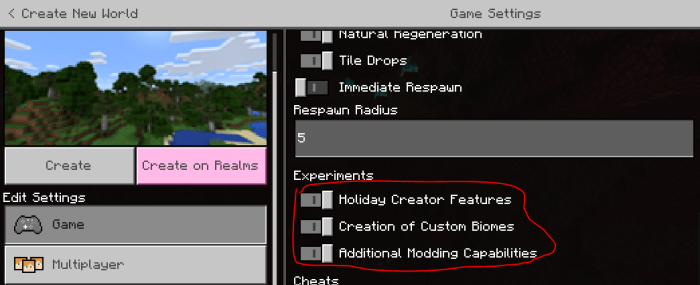 -Enable Holiday Creator Feature!!!-Aditional Modding Capabilities!!!-Creation of custom Biomes
The pedestals are crafted like this.
How to place items on it
Very easy by interacting with your sword, pickaxe, axe, hoe, shovel just right click for windows devices or tap on the pedestal for android devices.
Warning dont use enchanted gear if you play on survival cuz you will lose the enchant also the durability will reset!!!
Overview
This addon is compatible with any other texture packs wich are 16x16 minecraft shape based.This addon is compatible with Defined PBR - An RTX Resource PackThis addon is compatible with More Tools Addon 
only emerald , redstone tools support for now sadly other tools may never come because of the bedrock block limitations!
Hope you like it!


Installation
Download both the resource pack and behaviour pack and click on them to start the instalation process then enable experimental gameplay in world options.
Supported Minecraft versions
Downloads
Information
Users of Guest are not allowed to comment this publication.