Equipment Cosmetics
Addons for Minecraft PE
This is an improved version of the my old addon "clothes addon" and the "other clothes plus" instead of commands this adds different armors. This clothes have no little protection when not combined with vanilla armors.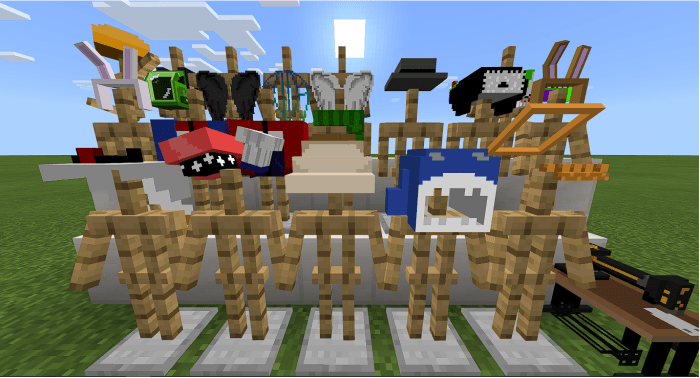 There are many clothes that this addon will add to your world from different hats, shirts and or even wings.
To craft these clothes you would need a Sewing Machine Table.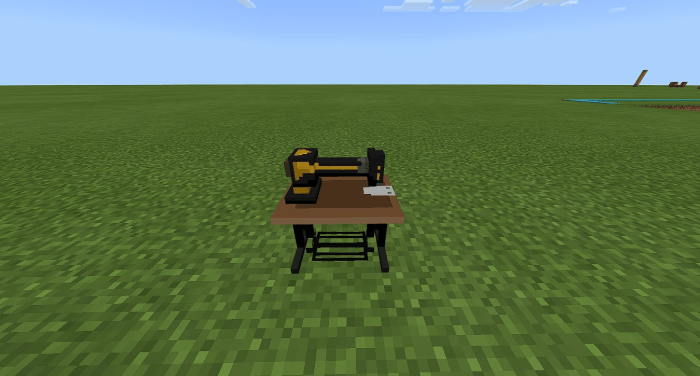 This machine is the crafting table for this addon.
To wear the clothes just equip it like armor.
Remember the clothes have durability also.
Recipes:
Combining with vanilla armors:
When you craft the armors by itself it doesn't have much protection when you wear it but by combing it with vanilla armor it will gain the protection of that armor.
If an armor goes on your head you can combine it with a helmet, if an armor goes on your chest you can combine it with a chest plate but if an armor goes on your head for example but you want to use it for a chest plate or leggings you can't combine them. 
If you want to use a book to enchant your armor, the armor must be damaged.To repair your armor you can use the the type of helmet you used, or the same cosmetic armor.
Things you absolutely don't want to do:
In the first slot of the anvil is your main armor and the 2nd slot is the armor that you will use for repair.
You can't combine enchantments if the 2nd slot has an enchantment, it would repair the main armor but would not transfer the 2nd slot's enchantment to the main one, leaving you with your main armor keeping the old enchants but repaired.
The same one as this, the 2nd slot armor enchant will not transfer the to the main armor leaving you with an unenchanted armor.
Remember if you are using these cosmetics on your armor you can only use the anvil for repair and enchanting with books.
Me wearing one of the hats
Installation
Experimental Mode must be turned on
Supported Minecraft versions
Downloads
Information
Users of Guest are not allowed to comment this publication.